Alexander Wang
Who remembers sporting backpacks to secondary school many years ago ? (It only lasted a year for me sadly, after many attempts of travelling to school with a backpack made out of cheap material - which my school MADE me wear, my mother put a stop and bought another school bag ... BUT BACK to the point -)
Well, history is now repeating itself and you do have the chance to sport it AGAIN (three cheers !!). For SS12, backpacks are flooding the catwalks as a key feature in the dominating 'sport luxe' trend.
So in this post, I will show you what the high street has to help us rock the backpack AND the rucksack. (remember the backpack is, what i would say, something used on a daily basis ... a bag that can hold a few items for the day ... but if your like me and just do BIG BAGS then the rucksack is more likely to be what your after)
So 1st ... we hit New Look
£19.99 (exclusive to flagship stores)
If you see yourself channelling the rivera chic, pair this with a breton shirt ;)
Up next ... Topshop !! Topshop gives you many choices from material to fabric and accessories that are attached to the bag ... Sorry guys, but there is more than one choice.
From left to right :Blue Acid Backpack (£32.00), Frost plastic backpack in cream and is available in pink and jade (£25.00) and Leather backpack in Tan , also available in Black (£40.00)
You can wear all of the above with many colours that are popping out this season from the pastels palettes .
Finally ... River Island... If your the type of person looking for THAT PRINT ... river island MAY JUST BE FOR YOU .... BUT ladies ... don't just settle in the women section, because the men's section has got some STUFF worth looking at; but i'll break it down though.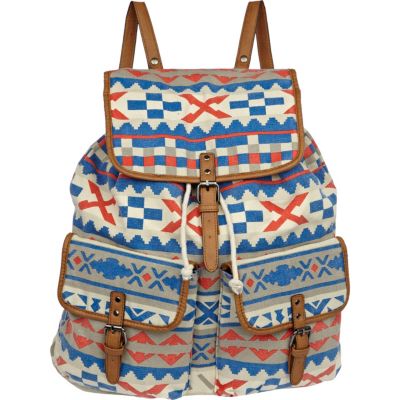 Blue Aztec Rucksack (£30)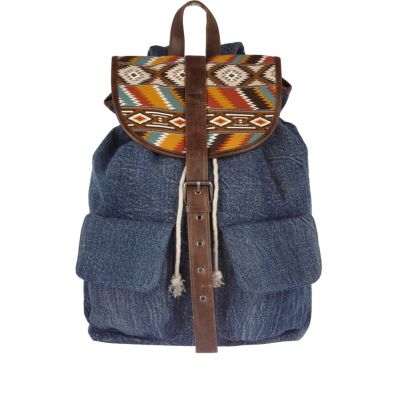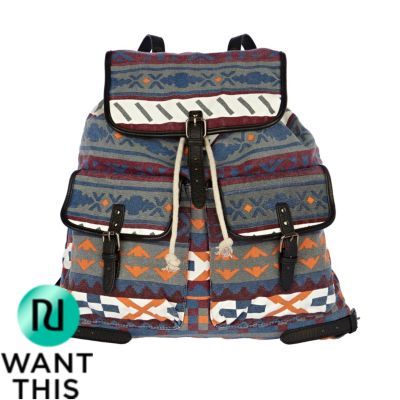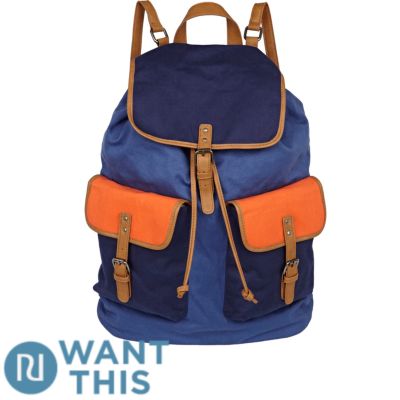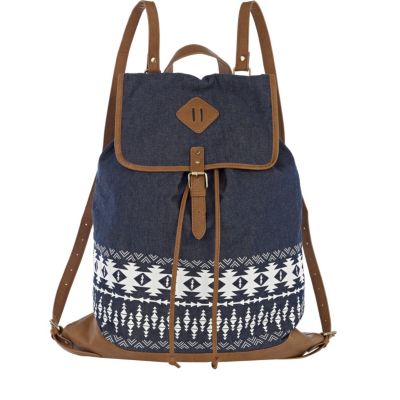 From left to right :blue aztec rucksack (£30.00) , blue aztec rucksack (£30.00) , navy colour block rucksack (£28.00) and blue chambray navajo rucksack (£28.00)
Sport with a simple white tee, beige or khaki green (or a plain denim jean) and plimsolls/ high tops ..... or when the weather gets warmer, shorts and plaited sandals